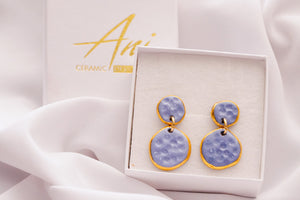 Product description
Ani ceramic design collection
ENG:These feather-light earrings by Ani ceramic desgin are as unique as you are. Made for your life. Feel beautiful with these fair and handmade individual pieces. Every single one-of-a-kind piece is elaborately made by Ana in her studio with a great deal of sensitivity. Ani's pieces of jewelery are true, small works of art and are also ideal as gifts.
Measurement: Smaller part h 1 xw 1 cm larger side - h 2.0 xw 2.0 cm
Weight: 4 grams
maintenance Keep these pieces separate from other jewelry, salt water or harsh chemicals.
Atelier/Artist: Ana Ceramic Design, Serbia
100% Handmade Designer Ceramics: All of the pieces we offer here are 100% handmade and can therefore vary slightly from the image shown above.
Materials used: - white German clay/colored lead-free glaze/24 ct gold I All colors and glazes used are lead-free. Surgical steel needle. Ideal for people prone to jewelry allergies.
Made to make you happy
OIA